Do You Have a New Website that Needs to Rank on Google ASAP?
What happens when you have a local business website with a low Domain Authority and you've no choice but to try to get it on the first page of Google? Case in point, this website's domain name has the same problem – for now. Often in difficult keyword categories such as ones for SEO companies in NYC, the competition is fierce and most of SEO company websites have twice the Domain Authority or more than what we are working with. What should someone do when working with a website that's practically a startup with very few backlinks and little or no Domain or Page Authority?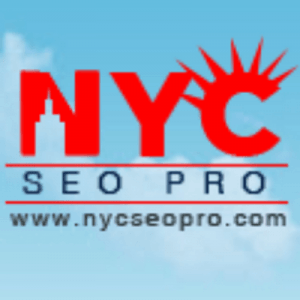 This is the first month that I started trying to get this website on Google's page one for "NYC SEO" and "SEO NYC"; those are the highest volume searches for SEO in New York, NY. I purchased this as an expired domain on January 11, 2019. It was listed for sale on https://expireddomains.io/ as a PR3 domain. I paid $135 to take over ownership of https://nycseopro.com. By the time I got control of the expired domain, it had fallen to PR2, (DA22). Since then, I've stopped the losses by rebuilding the website as it was when the previous owners had it, by scraping the content and keeping all the URLs intact. Once the domain transferred to my account, about a week later the IP address was changed and it moved onto my new high-speed server. I purchased the domain on a whim after looking at the SERPs for "Search Engine Optimization for New York City." The keyword category has some big players and is highly competitive. I know that if I were to get this website to rank alongside Greg Ortiz for "NYC SEO" it will be worth a million dollars a year, as he says in one of his blog posts.
Do I really need to get this website on the first page for "NYC SEO"?
It's probably not that important to be on page one, page two would suffice, but it would be nice to get on the bottom of the first page of Google. If I can get on page two for that SERP and maybe get on page one for a few long-tail keywords, my 10-year-old sole proprietorship will benefit greatly. I wouldn't have to tell people anymore about my skills and abilities at improving their keyword positions in the search result rankings anymore. It would be self-evident. So getting this website to rank on Google for those search results is my top priority because it would be the only example I need in my portfolio of accomplishments. This week https://nycseopro.com moved onto the rankings for "NYC SEO" with an initial position #38, which is the bottom of page four. Last week I couldn't find it any URLs on the first ten pages. Watch out Gregory Ortiz; here I come.
At this point, it's not because I need more SEO clients; I need better clients. I need SEO clients that have a decent marketing budget to work with and want an even better Return on Investment (ROI). I know very little about the previous owners of this domain, except to say that they were not very good at SEO, their website was never going to even come close to the top 5 pages on Google. Its content is thin and weak. Its linking structure faulty pages too short, and the appeal of the website was atrocious. It's not surprising they went out of business, they weren't very good at doing their job on their own site. Check out NYCSEOPRO's evolution since 2013 on the Wayback Machine.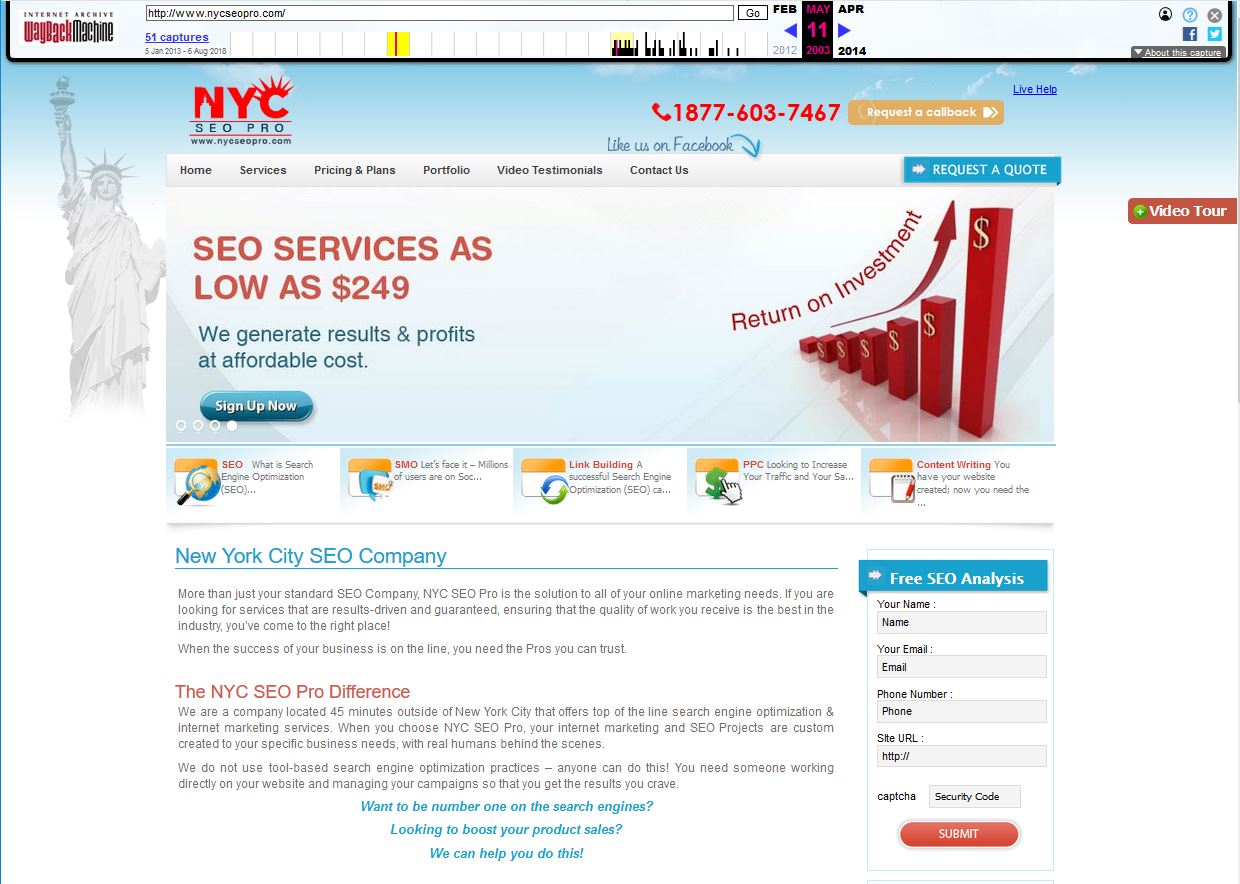 Most SEO companies spend more time and resources building backlinks, and that's what it's all about for them. But admittedly, SEO writing is tedious, but who writes it matters, both to us and our clients. There's been a lot of talk these days about fake news, fake reviews and even fake backlinks. Yet Google never tells anyone what it plans to do. But one look at the tools that are available can give you an idea of what's next for Penguin. The Penguin algorithm can rely on a few tools that we know of, like IP address tracking and on-page Readability Scores. If a published page has too many spelling and grammar errors, has a limited vocabulary, and was written by a non-native English speaker, how do you think its Readability score will be calculated. Combine those penalties with penalties on URLs that have lots of other similarly posted weakly-written articles and high Spam scores? Add in the IP evidence of overseas SEO companies posting content for their clients thousands of miles away from their website's customers. When it comes to sorting through billions of pages of content, reviews, testimonials, and backlinks, how else do you think Google is going sort through them?
The main reasons for writing longer landing pages:
Longer pages can compensate for lack of PageRank on websites with low Domain Authority.
Long-form content on your website helps get you more visitors from long-tail keyword searches.
Well-written pages have lower bounce rates as visitors spend more time on your website.
Longer pages and blog posts can smooth-out and repair on-site keyword density problems
In order for this website to rank, I figure needs to have a Domain Authority of around 30, or maybe less. Right now it is 21 or 10 depending on who you ask. When a website has no authority and no traffic, the best thing to do is sit down and start writing. Writing longer pages and blog posts helps in a number of ways. It helps to get your keywords in the right distribution on the website after you've gone through and sprinkled your keywords everywhere, it's likely that there are a couple of penalties for dense content. Long-form writing fixes those problems.
For one, most SEO companies only do the bare minimum to get some effect on their clients. Do they write interesting enough blog posts, not really? And they are nowhere near long enough to make a difference if they are only written to 350 words. That is the industry minimum, and most search engine optimization companies stick to it. Imagine how long it would take to remove a keyword density penalty? At that rate it could take years for a penalty to be removed.
By writing long posts, your website gets corrected over time and actually improves, becoming something that is viewed as the bots as interesting, informative and naturally written with the right keyword densities. Even as I am writing this post, I am sprinkling my keywords throughout. The same can be said for articles written by us for guest blog posts and external backlinks. Articles for publication shouldn't be written in a heavy-handed way, but when written naturally, the distribution and density of keywords tend to work out any penalties the website experiences overall. When you think about it, writing long posts and webpages makes a lot of sense. Too bad more SEO companies in NYC don't do it this way.
My advice for people looking to improve their website visibility via long-form blog posts, it is best to write posts on topics that interest you enough to become a content creator. There really isn't enough well-written content on the internet, and nobody seems to mind right now, but they might when Google cracks down on fake reviews, fake testimonies, and fake product reviews by writers that really should be doing something else with their time besides Search Optimization in NYC.
Moreover, there is no such thing as a blog post that is too long. Suddenly this post seems a little short at 1350 words. But it took me two hours to write and that's the limit I am giving myself for the writing of blog posts (for NYC SEO PRO as well as for clients).  Ending it early gives me lots to say for the next post I will be writing, so check back again next week.
https://nycseopro.com/wp-content/uploads/2022/01/blog_157971424994.png
300
300
nycseopro
https://nycseopro.com/wp-content/uploads/2022/04/NYCSEO-logo.png
nycseopro
2020-01-21 18:54:21
2023-08-25 19:57:41
How to Survive while Trying to Rank for Difficult Keywords